Even though Dana has numerous years working with startups, she is actually not an entrepreneur, per se. Think of her more as a builder at MassChallenge – helping startups find the right missing pieces to reach that next bump up in growth. MassChallenge is a global, zero-equity, not-for-profit accelerator that mainly nurtures high-potential early stage startups across all industries. The thin red line in Dana's career is being able to help bring wild and bold ideas to life for many of these entrepreneurs. Her superpower is to partner with bright, passionate creative thinkers that have dreams of reshaping the future, and then breathing life into their visions.
"I think too many entrepreneurs have decision whiplash which impacts the business outcomes and the team morale. Remain agile in your execution, but steadfast on your goal by giving it a minimum timeframe of 90 days to play out."
Becoming a TiE Austin Charter Member seemed like a natural fit for Dana. She explains, "for me it was the opportunity to join a group of smart, like minded, goal oriented humans that want to create a better world. What better way to do that than by working on the TiE Austin Angels initiative, the funding, and syndication opportunities that surround it?" She also looks forward to being a part of TiE Austin's Women's initiative – Vive Les Femmes Entrepreneurs.
"I've been blessed to have the best female mentors in the innovation, startup, and ventures communities. They have all given me platforms to step up to the plate and grow."
So what does the future hold for Dana? She's looking forward to leading marketing efforts across all U.S. based accelerator programs and building world-class branding initiatives. In addition to her career goals, she also has a core set of beliefs that you have to leave room for yourself in life's journey. She and her husband are also looking to adopt in the next 2-3 years. "We're spending a lot of our energy on building our family," says Dana, as she smiles warmly at the thought, "I'm a builder, remember!"
Regardless of what life throws at her, Dana is always redefining her definition of internal power, it could be hitting career goals, such as founding and leading a TEDx team, or hitting personal goals, like squatting over 700 lbs, or being a kidney cancer survivor. It is this kind of confident strength that entrepreneurs look for in a leader that can help them build their startups and help them create a better world.
If you would like to be featured on TiE Austin's Member Spotlight page,
please contact [email protected]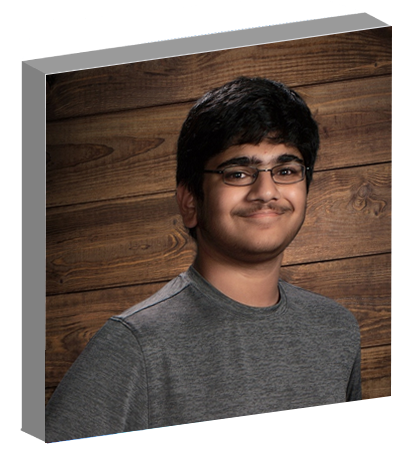 Karthik Bhagavatula,
Sophomore, Shadow Creek High School

(https://threemasketeers202.wixsite.com/masks) So far the response from the community has been nothing short of admiration. The Three MASK-eteers have been featured on numerous media outlets, social media shout-outs, and were even honored by Rep. Pete Olson, R-Houston. They also won the Ronald Powell Jr. Industrial Hygienist Award for outstanding achievement & innovation in occupational health and was recognized as GB Kid Preneurs By Greater Businesses of Pearland.
Karthik joined TiE Austin to help with his college ambitions and goals of learning coding, database maintenance, and analytics. "Here at TiE," he said, "I am learning something with every small task that I am working on. I am able to explore new technology skills, plus earn volunteering hours." Karthik is exploring computers and coding as part of an AP course, so when he found out about the TiE Austin's developer internship position it seemed like a natural fit.
In addition to learning website development and maintenance, Karthik is also in the Boy Scouts, TSA Robotics Club, and high school band. He has a passion for learning new things, especially anything related to math and science, and he enjoys reading books and adding new collections to his library. Out of all the extra-curricular activities Karthik has been involved in, it is the Boy Scouts that has made a lasting impression on him. "Being a boy scout I follow the scouting principles. The skills I learned from scouting play a huge role in my academic, personality and my leadership skills."
TiE Austin looks forward to working with Karthik , help expand his skill set, as well as help him grow his first business.
If you would like to be featured on TiE Austin's Member Spotlight page,
please contact [email protected]
David has been a part of two IPOs and delivered more than 10 applications to the market. Over the last decade, David's focus has been on cloud computing and machine learning for health care applications. He is an alumnus of Moody Bible, Penn State, and MIT.
While the healthcare industry has made significant technological progress to improve patient experience and care management, David still saw a gap within medication administration and adherence. This gap, unfortunately, was discovered during his father's hospital stay. Knowing that medication side-effects contributed to his father's passing, it led David to come up with a solution called knowRX.
"I wanted to fix the problem rather than blaming someone else. I'd rather make things happen." – David Frankiln
KnowRX is a mobile online platform that assists patients and caregivers with medication management to improve drug adherence and information by utilizing a list of features within the app. It makes it easier for patients to take the right dosage, receive counseling, and gain access to a pharmacist, as well as other guidance. Caregivers receive alerts and notifications, while medical professionals get an extra space to share drug information with the patients.
David's direct participation in two IPOs here in Texas opened up an opportunity for him to move into consulting. The consulting business has provided him with an experience to learn firsthand about business and all its associated ebbs and flows, commitments, and sacrifices. David decided to move away from professional services and founded knowRX.
David truly believes that one cannot achieve success in entrepreneurship without the support and fellowship of others.
"We can learn from others and give back equally regardless of the stages we are currently in. We need a network to lean on. "  TiE Austin members are able to connect with each other and across thousands of chapters globally in numerous continents. "I am looking forward to rising and growing in my journey with TiE Austin."
As an entrepreneur, David offers some sound advice to his fellow entrepreneurs, one of which is the notion of "Forward Progress". Entrepreneurship is challenging; there are many avenues to failure. However, it's during this journey that one finds success in sticking with it. Forward Progress is the term he uses to remind himself to keep pushing, defining, re-defining, and progressing in order to achieve a better outcome, daily.
David is committed to continue down this path of growing KnowRX, but moreover, what excites him is helping others, seeing them evolve, and helping bring their ideas to life. He looks forward to engaging with the TiE Austin community and to sharing his experiences to help other entrepreneurs progress in their own ventures.
"Just start," David says, "Chances are the first idea may not work, but it will lead you to another idea or sharpen your skills in business. You have to be willing to go for it and start over multiple times. So start now and enjoy the journey."
For David, it's the joy along the way of this entrepreneurial process that trumps reaching the final destination.
If you would like to be featured on TiE Austin's Member Spotlight page,
please contact [email protected]