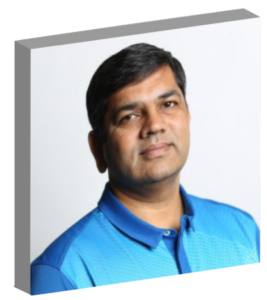 Co-Founder and CEO, Clocr Inc.
Sree is a serial entrepreneur with 25+ years of career and has an undying passion for innovation. He has launched several startups over the past 15 years and is now on a mission to provide peace of mind to customers around the world through Clocr.
The primary objective of Clocr is to eliminate uncertainty and remove the obstacles of cost, procrastination, and frustration in protecting and passing on a person's digital assets. Clocr's patent-pending security is the industry's best defense against files, and this is the company's biggest differentiator.
"The idea for Clocr came to us – my daughter and myself, shortly after the passing of my father when I was thrust into the role of 'executor' of my father's will.  I manage all my family's finances and investments, which include cash investments, rental properties, land ownerships, retail investments, and more. I always worried about how my family would know where all the investments were and how they would take over if something were to happen to me. It was a bigger worry when my kids were younger, and I wasn't comfortable sharing my financials with my extended family or friends. Clocr was born out of this necessity."
Sree firmly believes that technology empowers society to creatively and effectively solve age old problems. Working with his daughter, Apoorva, who was then a junior in high school, was his inspiration on many fronts. Their vision is to help their customers effortlessly manage their digital assets and ensure that their digital portfolio is safe and accessible to their designated beneficiaries.
Sree has been a member of TiE Austin since the start of the chapter in the year 2000. TiE Austin is connecting Clocr Inc. to local organizations and mentors to help accelerate their B2C and B2B2C growth.
"One of the most lucrative sources for me today is TiE Austin. This organization is thriving in the Austin, TX metro area.   TiE has a huge network of entrepreneurs, mentors, and resources, and also opens up opportunities to connect at national and international levels around the world," says Sree. "It's not about how many times you got knocked down. It's about how many times you are able to get back up.  Treat each venture as a learning opportunity. Have a mentor support system that can help you guide the way. And this is where TiE can help. TiE Austin can accelerate your success journey. Be respectful, courteous, and compassionate to others and their situations."
If you would like to be featured on TiE Austin's Member Spotlight page, please contact [email protected]