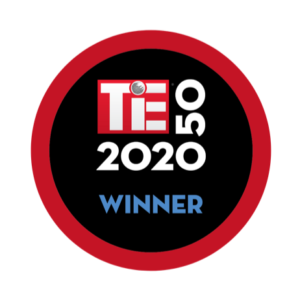 TiE Austin's fostered company Clocr, INC. selected at TiE50 Awards
Austin, Texas, September 1, 2020 –
For immediate release
Clocr, industry's first all-in-one "self-service will for online accounts and digital assets" is excited to announce that it has been selected as a 2020 TiE50 Winner in the prestigious TiE50 Awards Program. This ten year old awards competition is a program of TiECon Silicon Valley, one of the world's largest conferences for tech entrepreneurs. Clocr, INC.,was recognized for its mission to provide peace of mind to their customers around the world by eliminating the pain and frustration in creating and managing their digital assets through personalized AI/ML- powered platform.
We all own dozens of online accounts and we conduct online transactions every day.  "If something were to happen to you, all of your online accounts would be stranded without a designated owner, making them easy targets for hackers and identity thieves potentially exposing your family to financial risk," says Apoorva Chintala, Co-Founder of Clocr.
Sree Chintala, CoFounder of Clocr, expresses his gratitude to TiE Austin team, especially the current President – Jayshree Vakil – for her encouragement and support. Jayshree has been a great mentor and a big supporter of Clocr and has helped in connecting Clocr with local organizations.
"TiE50 again attracted high potential startups bringing innovation from different parts of the world. Besides the recognition associated with the TiE50 award, this year TiE50 also partnered with "Meet the Drapers", a ground-breaking reality show to give an opportunity to some companies to pitch to the show," said Kamal Anand, TiE50 Program Chair.
"For over 28 years as a not-for-profit organization dedicated to fostering entrepreneurship and with a global footprint of half million entrepreneurs, enterprise executives, and investment professionals, at TiE Silicon Valley we take pride in the fact that we have created TiE50, a strong 10-year-old brand for recognizing high potential startups," said B.J. Arun, President, TiE Silicon Valley.
The TiE50 Awards will be presented virtually to the winners during a ceremony on September 3rd. For more information, please go to https://www.tiecon.org/TiE50Awards2020/
About Clocr, INC.
Clocr provides an all-in-one legacy planning services for online accounts and digital assets.  We enable you to designate your heirs to legally access your online accounts (upon incapacitation or death) and empowers them to close them on your behalf. Clocr's mission is to provide peace of mind to our customers around the world by eliminating the pain and frustration in creating and managing their digital assets through personalized AI/ML- powered platform. Clocr offers three distinct services on a single platform: Will for Digital Assets, Secure Digital Wallet for storing password vault master keys, bitcoin private keys and Digital Time Capsule for passing on your values and messages.
Clocr's platform is supported with 3-patents including a proprietary security protocol that is built on inter planetary file system (IPFS) and blockchain concepts.  We digitally shred the encrypted information and distribute the fragments across multiple storage locations. Security is very important for us and even in the unlikely event of a security breach, our technology renders the stolen files useless.
About TiE50
Now celebrating its tenth year, TiE50 Awards provides a one-of-a-kind showcase for the world's top technology and technology-enabled startups. TiE Silicon Valley's premier annual awards program is keenly contested by thousands of early to mid-stage startups of all sizes representing a wide range of verticals. Applications are rigorously reviewed by a panel of judges including venture capitalists, angels, successful entrepreneurs, and corporate executives. Since its inception, 84 percent of TiE50 winners and top startups have been funded at a total of over $1 billion. Many of these companies went on to acquisition or IPO with 29 of the exits at over $100 million.
About TiECon
TiECon Silicon Valley is one of the world's largest conferences for entrepreneurs and intrapreneurs with participation from top technology companies, leading venture capital firms, and global service providers. Delegates range from CEOs of top companies to first-time entrepreneurs as well as corporate executives and investment professionals. TiECon was listed as one of the 10 best conferences for ideas and entrepreneurship by Worth Magazine, along with TED and the World Economic Forum. Previous TiECon events have attracted 5,000+ attendees from 22 countries. More information: TiEcon.org
(Contact: Sree Chintala, [email protected])